| | |
| --- | --- |
| The impact of COVID-19 restrictions has been felt across all industries and while broadacre farming has been largely spared the worst effects, the absence of key employees, contractors and family members at critical times has been a feature of the last 12 months. | |
Expecting the Unexpected

| | |
| --- | --- |
| | Expecting the unexpected is an attribute of farming, however when it comes to our farm labour and management resources, contingency planning is often lacking. Farm management decisions can seem to roll on and almost 'make themselves'. However, it is not until an unexpected and major disruption occurs that we realise how important the decision maker or critical person is. |
Rating the Risk
The risk of any potential business disruption can be rated using a risk matrix such as the one below. There are two steps to rating the risk:
Your estimate of the likelihood of a particular event occurring is rated on a scale from Almost Certain to Rare.
The consequence or impact of that particular event occurring is rated on a scale from Negligible (Almost nothing) to Catastrophic.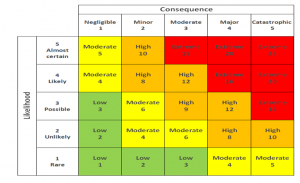 The risk rating helps prioritise where contingency planning is required, starting with the red coded risks followed by yellow and green as the lowest rated.
One of the most disruptive events that can occur to a business is the removal from the picture of a key decision maker by either injury, illness or even death.
Roles and Responsibilities
| | |
| --- | --- |
| With increasingly complex farming and management systems, many farm businesses are taking the time to ensure they have contingency plans in place to tackle various scenarios. A tool that can be useful in managing disruption to your labour or management team is a Roles and Responsibilities table for your farm. The table becomes a snapshot of who is responsible for the key tasks, decisions and communication in the different areas of the business. | |
The table includes the following:
The key farm enterprises and tasks e.g. crop planning, shearing, harvest, etc.
Names of who is responsible in your business for the key enterprise activities and tasks. How many areas are under the responsibility of one person? Are they spread too thinly?
Name of who would be 'next in line'. By adding the name of this 'back up' person you are giving them permission to learn the job. It could be that they work alongside the responsible person at critical times to learn the detail behind the decision making.
Name and contact details of any external people (advisers/contractors) who contribute expertise or labour. It is useful for the 'next in line' person to also get to know the key external people.
You can also add the months of the year when the particular task/activity is most intense.
Vulnerabilities
Vulnerabilities can be highlighted by identifying areas where a single person is solely responsible for multiple tasks and responsibilities. Action can then be taken to put contingencies in place such as naming a 'next in line' and have that person learn the job by shadowing and mentoring with the responsible person
In summary, a few key questions to ask yourself are:
What range of risks does our business face and what is their likelihood and consequence?
Who are our critical people and decision makers and their 'next in line?'
Who are the key external advisers and contractors to the business?
Does the whole team know, at a glance, who is responsible for what and at what time?
Watch the Agriculture Victoria Building Farm Business Resilience webinar here
Get in touch to find out more Contact Us